Your Phones Should Be Driving Your Business
Not Driving You Crazy!
Are you experiencing dropped calls on a daily basis?
Are your phone conferences and one-to-one business calls delivering static instead of sales?
Is your system routing important calls or messages to the wrong extension -- or to nowhere?
Is it impossible for you to tell which phone line leads to which employee?
Is adding new lines or reconfiguring your phone system a living nightmare?
Does a simple repair to your phone system seem to take forever?
Are you getting a lot of "buck for the bang" instead of the other way round?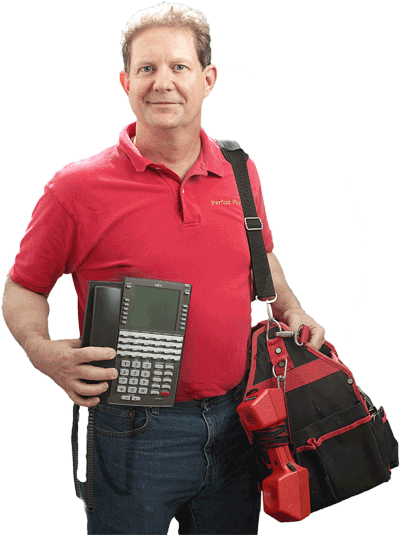 If you answered "Yes," to any of these questions, then you don't have a phone system -- you have a phone problem. A costly, productivity-eating problem that threatens to torpedo your business's bottom line. And the last thing you need or want is to sink even more valuable time and money into phone system providers who can't (or won't) help you in a courteous, timely, professional manner. You don't need a working phone system next month -- you need it NOW.
That's why you need us. Perfect Phones lives up to its name with top-quality phone system products installed and programmed for simple, efficient, reliable operation. But we don't stop at the phone systems -- you'll also get top-quality, personal service to ensure that your phone system will keep working, day after day and year after year.
Don't let your phone system put your business productivity on hold another minute. Use the contact form below to ask questions or request help today. Let us help you focus on your bottom line instead of your phone line!
What Our Customers Say About Us...
1. Excellent product knowledge. 2. After reviewing our operational needs, offered advice on options and selections we never considered. It is good to be aware of all available choices. - William E. Fisher, General Manager, Fiberglass Insulators
While a partner with Dilworth & Wooldridge in the legal search industry and since joining Todd in the real estate business I've had the opportunity to observe your work from the inception of purchasing/installation of multi line 'high tech' telephone systems to the subsequent removal/relocation of the product from one office to another. The personal training you deliver and your availability to the client, in my 17 years as a small business owner, have been unmatched by others. Keep up the good work! - Jim Dilworth, Apartment Headquarters & Empire Realty
Excellent, professional install -- Thanks! - Scott Yaeger, President, KaBloom
You guys were great. Just as the names says -- "Perfect" ! - Danny Copeland, Agent, Farmers Insurance
Excellent and reasonable service. Very pleased! - Mary Kay Durham, Owner, The Fixture Shop
Everything was done as quoted and on time. - Chip Jennings, Christianson Brothers Automotive
Thanks for the quick work! It looks good. I just wanted to let you know thta I try to mimic your customer service. Excellent. Keep it up. Thanks again for everything you do for us. - Blake Ormand, Bill's Auto Parts
I was very pleased with the service and the cost. I would refer you to others. Thanks. - Patrick Casey, Farm Bureau Insurance
System runs great, just the little tweaks here and there. No BIG problem. - Milo Tidwell, Purchasing Agent, The Light Bulb Sop
A+ Excellent service! - Drake Besheer, Agent, Farmers Insurance